Siterobot the Winnovator Infographic March 2013
" March 2013 Infographic, Who is Winnovator? "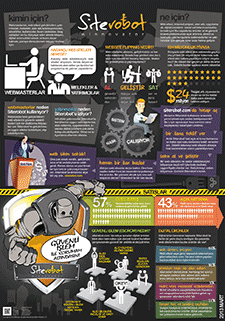 As Siterobot get people together, it is platform, also it is a virtual market as all users can trade mutual.
It is purposed to provide buyers and sellers to get action basing on free market rules for the creation of some kind of barometer showing real prices of the website market.
After the succeeded sale process buyer and seller complete Siterobot which includes the change of the sale total ownership rights of website.
Buyers and sellers use their own Siterobot user accounts for all Siterobot transactions. Users may follow all records and balance in this account. This account can be deposited at by the user at anytime. They also can receive payment from another user against sales by using Siterobot escrow account.
Siterobot service fees will be invoiced to the user at the listing process. Users complete the payment from Siterobot user account for invoice payments.
Siterobot Escrow is purposes to protect rights of both sellers and buyer for a fair and clear trade. Online transactions get the buyer and seller together on internet. If there is no any regulator such as Siterobot, both side should trust each other. It is not a risk to take everytime. Siterobot Escrow will provide you the secured online website trade.
The buyer deposit funds to Siterobot escrow account after he/she wins the public auction or private sale. Concurrently, the seller is supposed to send the information supporting the ownership. The buyer approves the he/she got the ownership of website or domain depending on the content or working style of the website. As the buyer approves the transfer total amount in the Siterobot escrow account to the sellers account, Siterobot executes completes the process.
Both buyer and seller is happy now. As the buyer`s approval is needed for the transfer, the buyer trades securely. As the buyer deposits the funds to Siterobot escrow account, the seller may send the website`s information without hesitate.