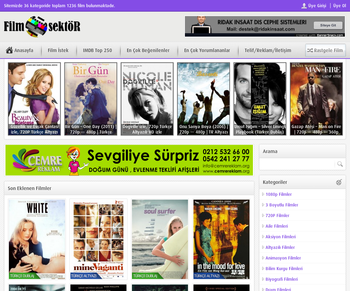 Arkadaşlar normalde günlük 1.5K'dan aşşağı düşmüyordu hit'ler. Ailemden biri vefat edince 3-4 hafta ilgilenemedim şuan 1K civarıdır.

Site PR1'dir. Gelecek Pagerank güncellemesinde PR2 veya PR3 bekleniyor.
5 dakika içinde index almaktadır.
Backlink çalışması yaptırılmıştır.
Bot kullanılmamıştır. Bütün filmler el ile eklenmiştir.
Notice :
Listing on Siterobot should contain true content and information basing on facts. Listings cant violate laws, generally accepted social norms, religous norms and Siterobot
terms & conditions
item 5.2.1 paragraph h. Copyrights violation is unacceptable. All subjects which has come up in this notifications, are under responsibility of the seller. If you think any there violation, please connect with Siterobot.