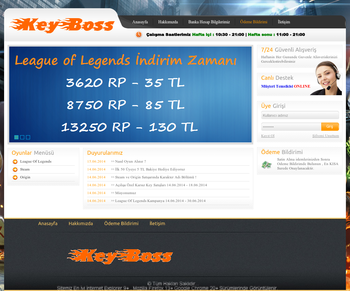 Domain Networksolutions.com Kayıtlıdır.

Site Haziran ayında Kurulmuştur.

Steam key ve LOL RP satışından Yaklaşık 200 TL Net kar elde edilmiştir.

Proje Değişikliğinden dolayı satıştadır. Siteye Canlı Yardım entegre edilmiştir.

Yanında 3 Ay Hostingi ve İçindeki Full Değiştirilmiş , Admin Panelli Yazılımı verilecektir.

1 TL 'den başlatılmıştır. İlgilenilirse aylık 1000 liraya kadar gelir kazanılabilir.





Notice :
Listing on Siterobot should contain true content and information basing on facts. Listings cant violate laws, generally accepted social norms, religous norms and Siterobot
terms & conditions
item 5.2.1 paragraph h. Copyrights violation is unacceptable. All subjects which has come up in this notifications, are under responsibility of the seller. If you think any there violation, please connect with Siterobot.