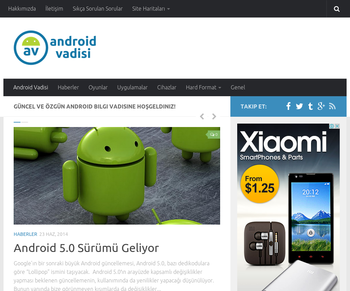 AndroidVadisi.com Android mobil ve tablet işletim sistemi için, bilgiler, haberler ve makaleler sunan bir web sitesidir. Android, Google, OHA ve özgür yazılım topluluğu tarafından geliştirilen bir işletim sistemidir. Android gerek güvenliliğiyle, gerekse de geniş uygulama yelpazesi sunması dolayısıyla, Son zamanların en popüler ve en çok kullanılan mobil işletim sistemi olmuştur ve olmayada devam edecektir. Android kelimesi Google'da büyük ölçüde aranma oranına sahiptir.
AndroidVadisi.com altyapısı

AndroidVadisi.com domaini Godaddy, hosting altyapısı ile Alastyr güvencesindedir. Alastyr hostingini daha önce de kullanmış olup, gerek ilgi ve teknik destek, gerek hız, gerekse de güvenlik açısından öne çıkan bir firmadır. Bu yüzden AndroidVadisi.com hosting altyapısı olarak Alastyr'ı seçmiştir. AndroidVadisi.com'u üzerinde barındıran hosting paketi,
limitsiz
hosting paketidir. Tüm özellikleri kullanabilir ve AndroidVadisi.com haricinde 1 Adet daha site barındırabilirsiniz.
AndroidVadisi'nin Ek Avantajları

AndroidVadisi.com dünyanın en büyük reklam ağı olan Google Adsense'e kabul edilmiştir ve siteye sadece adsense reklamları eklenmiştir
AndroidVadisi.com Google+ profili site ile bağlanmıştır ve Google+'da kendi kullanıcı adını kullanıyor.
AndroidVadisi.com Google Analystic ve WebmasterTools hizmetlerine kayıtlıdır.
AndroidVadisi Facebook sayfasında +450 beğeni vardır ve bunun haricinde +1000 çöp sayfa verilecektir.
AndroidVadisi'nin hesap türü Altın olan bir bumerang hesabı da vardır.
AndroidVadisi Twitter ve Tumblr sosyal ağından "androidvadisi" kullanıcı adını almıştır.
CMS Yönünden AndroidVadisi

AndroidVadisi.com site altyapısı, dünyanın en kolay ve en güçlü sayılabilecek içerik yönetim sistemi olan Wordpress'i kullanmaktadır. Wordpress içerik yönetimi açısından kolay ve Google tarafından sevilen bir içerik yönetim sistemidir.
Tema Açısından AndroidVadisi

AndroidVadisi.com da bulunan tema Alexander Agnarson tarafından yapılıp ücretsiz olarak dağıtılan bir temadır. Tema ücretsiz olmasına rağmen, Mobil cihaz ve Tablet PC'lerle de tam uyumludur. Tema tarafımızdan Türkçe yapılmıştır. Temanın çok yönlü bir yönetim paneli mevcuttur, buradan tema ile istediğiniz ayarı yapabilirsiniz.
Notice :
Listing on Siterobot should contain true content and information basing on facts. Listings cant violate laws, generally accepted social norms, religous norms and Siterobot
terms & conditions
item 5.2.1 paragraph h. Copyrights violation is unacceptable. All subjects which has come up in this notifications, are under responsibility of the seller. If you think any there violation, please connect with Siterobot.