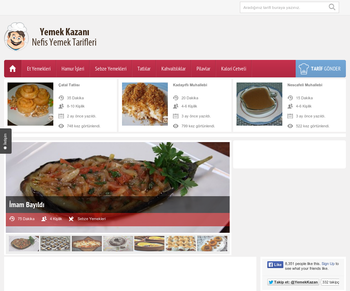 www.yemekkazani.net
Satılık Full Özgün Yemek Tarifi Sitesi
Private sale waiting for an acceptable offer
Site Adresi:
www.yemekkazani.net
İstenilen Fiyat:200 tl
Sitenin Aylık Getirisi: Yok(reklamstore ve gittigidiyor onayı vardır.)
Sitenin Kategorisi: yemek tarifi
Site İçerikleri: %100 Özgün
Günlük Tekil Hit Sayısı: Ortalama 20+
Ziyaretçi kaynağı: ( %70 google - %30 facebook )
Domainin yaşı: 6 ay
Site tüm içeriği birlikte mi satılık, sınırlama var ise neler:Tüm içerik
Hosting dahil midir:Dahil(Sınırsız Hosting.)
Banlı olduğu sponsor var mı:Yok
Banlı olduğu arama motoru var mı:Yok
Kullanılan yazılımın lisansı satışa dahil mi:Dahil(Nirvana V1 yemek tarifi teması ve echotasarim teması lisanslı)
Sitenin satışında herhangi hukuki bir problem var mı, telif hakkı vb..:Herhangi bir sorun yoktur.
Not:Site için full seo çalışması,tanıtım yazıları,backlink çalışmaları yaptırılmıştır.8 ,450 kişilik facebook ve 350 kişilik twitter sayfasıda dahildir satışa.
Notice :
Listing on Siterobot should contain true content and information basing on facts. Listings cant violate laws, generally accepted social norms, religous norms and Siterobot
terms & conditions
item 5.2.1 paragraph h. Copyrights violation is unacceptable. All subjects which has come up in this notifications, are under responsibility of the seller. If you think any there violation, please connect with Siterobot.