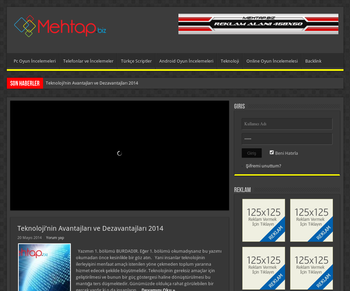 Jenerik İsim Satılık - Mehtap.biz - Özgün Blog
Private sale waiting for an acceptable offer
0 offers
, Enter more than $54.64 for offer.
Merhaba beyler aktif olan blogumu satıyorum acil ihtiyactan dolayı.

Site Link : mehtap.biz
jenerik bir isimdir.
Alexa Dünya 700 k dır.
Ozel olarak 200 Tl ye SEO çalışması yaptırılmıştır.
50 TL ye Backlink çalışmasıda yapıldı.
Blog daki tüm makaleler özgün seo uyumlu yazılmış ve Yazdırılmıştır.
Günlük 100 üstü ziyaretci vardır.

Çoğu önemli kelimede ilk sırada cıkmaktadır.
Örnegin Birkacı : Yabancı Ücretsiz Scriptler - Yabancı Scriptler vs. [daha co vardır.]
Hicbir ban vs. yoktur.
Hosting karşılanır.
İSİMTESCİLDE KAYITLIDIR.
Sahifa teması kullanılmaktadır.
Tema seo uyumlu yapılmıştır.
WP Kullanılmaktadır Tüm açıklar ve güvenlik seviyeleri arttırılmıştır.
Makalelere eklenen tüm resimlerde logo da eklenmiştir.
Makalelerin hiçbiri alıntı degildir ½ 100 özgün yazılmıstır.
PR 4 Forumdan Link alınmıştır.
PR 3 ve PR 2 Blogdan Tanıtım yazısı alınmıştır.
Notice :
Listing on Siterobot should contain true content and information basing on facts. Listings cant violate laws, generally accepted social norms, religous norms and Siterobot
terms & conditions
item 5.2.1 paragraph h. Copyrights violation is unacceptable. All subjects which has come up in this notifications, are under responsibility of the seller. If you think any there violation, please connect with Siterobot.