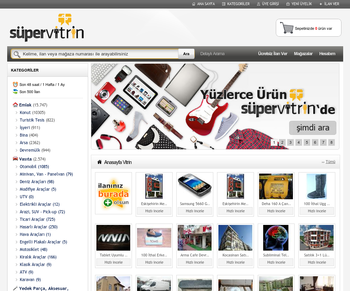 www.supervitrin.com
Türkiye'nin en gözde ilan ve e-ticaret sitelerinden birisi satılıyor..
7 Senelik yayın hayatına e-ticaret ile başlayan Supervitrin, 2009 senesi itibari ile e-ticaret + seri-ilan portalı olarak yayın hayatını sürdürmektedir. Günlük 200'ün üzerinde ilan girişi ve kullanıcıya vermiş olduğu güven ile yatırım anlamında kesinlikle kaçırılmaması gereken bir projedir.
Aktif e-ticaret hayatı süresince ciro bakımından çok yüksek gelirler elde etmiş, aynı zamanda B2C ve C2C modelleri ile sistem üzerinden farklı kullanıcı veya mağazaların da satış yapmalarına olanak sağlamıştır.
Supervitrin bünyesinde kayıtlı bulunan 500 kadar mağazanın halen 200 tanesi aktif ticaret yapma isteğinde ve eğiliminde olmasına rağmen, gerek mağazalara, gerekse kullanıcılara e-ticaret konusunda 2013 senesinin Aralık ayı itibari ile farklı projelerimizde olan yoğunluktan dolayı kapatılmış, altyapı ve sistem olarak heran yeniden açılmaya hazırdır.
Hali hazırda gelirlerinin %90 üzerindeki büyük kısmını DOPING olarak adlandırılan ilanlardan kazanmaktadır. Kurulacak ekip ile e-ticaret hayatına da geri dönüş sağlanırsa gelirleri kat ve kat artacaktır.
Daha detaylı bilgi almak, proje hakkında görüşmek isteyen girişimciler mesaj yolu ile ulaşabilir.
Notice :
Listing on Siterobot should contain true content and information basing on facts. Listings cant violate laws, generally accepted social norms, religous norms and Siterobot
terms & conditions
item 5.2.1 paragraph h. Copyrights violation is unacceptable. All subjects which has come up in this notifications, are under responsibility of the seller. If you think any there violation, please connect with Siterobot.