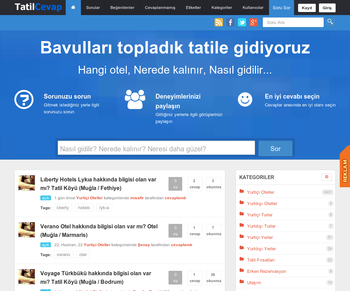 www.tatilcevap.com
proje yoğunluğundan dolayı satılıyor.
Soru cevap sitesi kurmayı düşünenler veya benzeri portal fikri olanlar kaçırmasın!
Aylık ortalama 80-150TL gelire sahiptir. Hiç ilgilenilmedi. Siteye ilgi gösterilirse, kesinlikle çok çok iyi sonuçlar elde edilir.
Elimdeki proje yoğunluğundan dolayı ben sembolik bir ücrete, 2 aylık adsense gelirine satıyorum. Sistemdeki özel tema ve eklentiler + domain 400TL ve üzerinde bir maliyete sahiptir. Alan kişiye .NET domain de verilecektir.
Fiyat teklifinize açıktır.
Notice :
Listing on Siterobot should contain true content and information basing on facts. Listings cant violate laws, generally accepted social norms, religous norms and Siterobot
terms & conditions
item 5.2.1 paragraph h. Copyrights violation is unacceptable. All subjects which has come up in this notifications, are under responsibility of the seller. If you think any there violation, please connect with Siterobot.