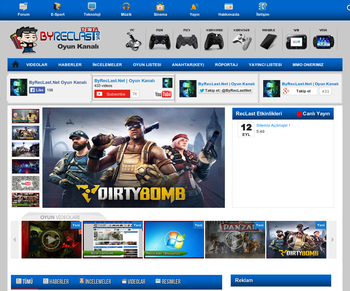 byreclast.net
Private sale waiting for an acceptable offer
0 offers
, Enter more than $137.35 for offer.
Site/Blog Adı:
Oyun Haberleri, İncelemeleri, Videoları | ByRecLast.Net | Oyun Kanalı
Site/blog Adresi :
http://byreclast.net/
Açıldığı Tarih:
02.02.2015
Kurucusu/sahibi (isteğe bağı):
RecLast (Ümit Eski)
Editörler (isteğe bağlı):
http://byreclast.net/editorler
Standartlar:
PHP, CSS, Javascript
İYS:
Wordpress
Site İçeriği & Amacı :
ByRecLast.Net, 2013 yılında RecLast tarafından kurularak yayın hayatına başlamış bir oyun portalıdır. Bir şirket olmaksızın yayın hayatını sürdüren, Oyun haberleri,incelemeler ve videolar çeken birkaç kişilik oyuncudan oluşan bir Oyun Platformudur.
ByRecLast.Net, faaliyetlerini Homework olarak sürdürmektedir. Editörlerimizin hepsi evlerinden çalışmaktadır.
ByRecLast.Net'in faaliyet amacı; oyunculara oyunlar hakkında haber, inceleme, video olarak içerikler sağlarken, bunlarla beraber gerek videolu gerekse de yazılı özel içerikler de üretmektir. Bir yandan oyuncuların bilgi ihtiyaçlarını karşılamak, öte yandan oyunculara özel bir televizyon kanalını internetten ulaşılabilir hale getirmektir.
Sitenizin avantajlı tarafı:
Düzenli olarak Haberler, Videolar ve Canlı Yayınlarımız ile Oyunlar hakkında hemen her bilgiye ulaşabileceksiniz. Şuanda yeni açıldığımız için pek içerik gözükmesede yakın süreçde hızlıca arttırmayı düşünüyoruz.
Sitemizin Tanıtım videosu ;
https://www.youtube.com/watch?v=jUqBdQVILwE
Sosyal Ağlarımız ;
http://byreclast.net/hakkimizda
RecLast
Notice :
Listing on Siterobot should contain true content and information basing on facts. Listings cant violate laws, generally accepted social norms, religous norms and Siterobot
terms & conditions
item 5.2.1 paragraph h. Copyrights violation is unacceptable. All subjects which has come up in this notifications, are under responsibility of the seller. If you think any there violation, please connect with Siterobot.