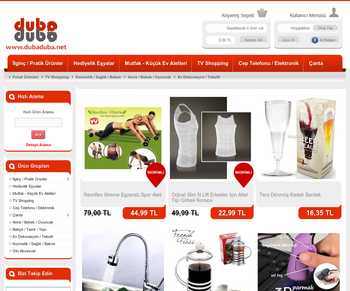 İdeasoft altyapılı ürünlerin tamamı XML ile siteye entegre edilmiş olan eticaret sitemiz satılıktır.

Ödeme sistemleri şuan için PAYU ile anlaşmalıdır. Dilerseniz kendi sanal posunuzu güncelleyerek anında satışa devam edebilirsiniz.

Sitemizin 2500 adet üyesi bulunmaktadır. 70.000 bin adet ebülten almak isteyen üyesi mevcuttur. Bu üyelerin tamamı sosyal medya kampanyaları ile elde edilmiştir.

Facebook sayfasında organik sonuçlar ile elde edilmiş toplamda 6.116 takipcisi vardır.
https://www.facebook.com/dubadubanet
Düzenli olarak hergün içerik girilerek yönetilmektedir.
Sitede bulunan bütün ürünler XML entegrasyonu ile sisteme eklenmektedir. (bilgisayar ürünleri, iç giyim ve fantazi ürünleri entegrasyonuda mevcuttur dilerseniz aktif duruma getirmeniz yeterli olacaktır.)
Sizin web sitesinde sadece ana sayfa vitrinini düzenlemeniz yeterli olacaktır.
Hergün mailing ve facebookta ürün çıkıldığı taktirde ortalama 1500 2000 TL ciro yapan web sitemizde mailingleri şirketimize bağlı ajansımızın email marketing sistemi yönetmektedir.(
www.message34.com
)
Siteyi alma konusunda anlaşma sağlandığı taktirde 6 ay email marketing desteği ücretsiz olarak firmamız tarafından verilecektir.
Günde ortalama 100.000 adet emailing yaptığınız taktirde aylık ödeyeceğiniz rakam ortalama 2.500 / 5.000 TL arasında firmalara göre değişecektir. 6 aylık süreçte bu maliyetten de kurtulmuş olacaksınız.
Doğru yönetildiği taktirde rahat bir şekilde aylık 30.000 TL ciro yapacağınız sitemizde bütün ürünlerin kar oranı minimum %50 dir.
Bu kar oranları dilerseniz tek bir tıklama ile değiştirebilirsiniz.
1 yıldır çok fazla efor sarfederek emek harcadığımız sitemizde 2014 yılı itibari ile yeterli ilgiyi gösteremeyeceğimizi anladığımız için yönetimin aldığı karar ile ilgi gösterebilecek kişi veya kurumlara şirketimizi devretmeyi planlıyoruz.
www.dubaduba.net
Notice :
Listing on Siterobot should contain true content and information basing on facts. Listings cant violate laws, generally accepted social norms, religous norms and Siterobot
terms & conditions
item 5.2.1 paragraph h. Copyrights violation is unacceptable. All subjects which has come up in this notifications, are under responsibility of the seller. If you think any there violation, please connect with Siterobot.