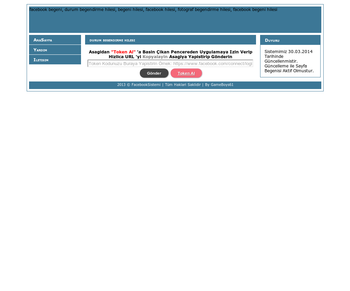 Yaklaşık 7 aydır aktif olan tokenli facebook uygulama sitemi satmaktayım. Sisteme günlük ortalama 20 kişi giriş yapmaktadır. Kategorisinde adını duyurmuş bir sitedir, Google 'da "facebook sistemi" şeklinde arama yaparsanız bir çok sonuca ulaşabilirsiniz. Sitede şuana kadar dördüde kendi yaptığım özel script olmak üzere 4 farklı script kullandım. Admin panel üzerinden beğeni çekimi yapılabilmektedir. Sistemden vip üyelik satışı yaparak kazanç elde edebilirsiniz. Ayrıca script özeldir.
Notice :
Listing on Siterobot should contain true content and information basing on facts. Listings cant violate laws, generally accepted social norms, religous norms and Siterobot
terms & conditions
item 5.2.1 paragraph h. Copyrights violation is unacceptable. All subjects which has come up in this notifications, are under responsibility of the seller. If you think any there violation, please connect with Siterobot.